Suffer me to kiss that mouth.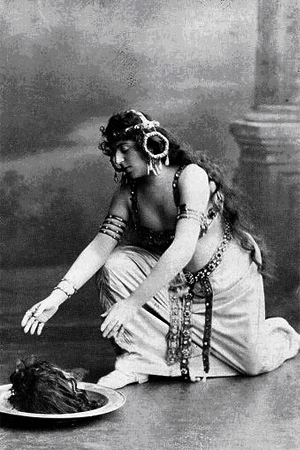 Oscar Wilde dress as Salome
Salome is an antiquity character depicted by Christians as a seductive woman which her erotic dance has been iconised with the name "The dance of the seven veils".
Salome is also a tragedy based on this antique character written by Oscar Wilde in 1891 in French and then translated in English. The play's debut in London was halt by a ban in 1892. The play premiered in Paris in 1896.
From the 22th of June to the 17th of July, the Hampstead Theatre is hosting the play directed by Jamie Lloyd for the Headlong Theatre in a post apocalyptic universe.
While giving an astonishing statement to the stage, I found the universe a bit disturbing considering the historical references in the script. However, a perfect realisation based on this universe, the commitment of the actors and an exhilarating direction lead the play to the edges of what our time socially accept for an absolutely daring and literally stunning play which is going to stay in memories.
Entry from £10 to £25.