It's with a lot of excitement that I went to the Vincent Van Gogh (1853 - 1890) exhibition displayed at the Royal Academy of Arts. Van Gogh is the painter that I call "the crazy one but crazy like it's not cool to be". It implies in my twisted mind a lot of admiration and curiosity for him.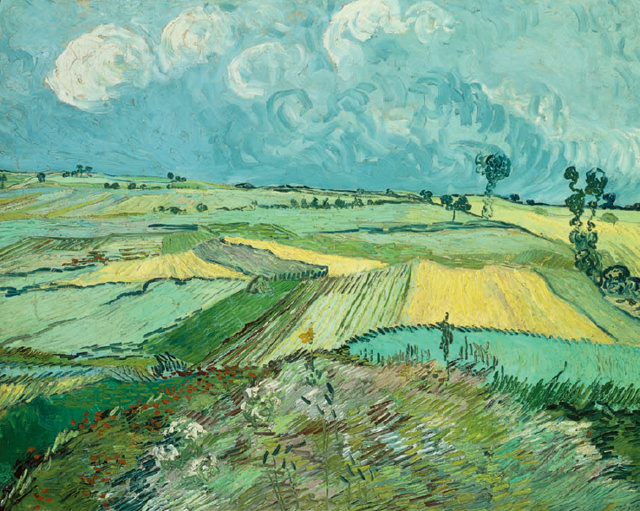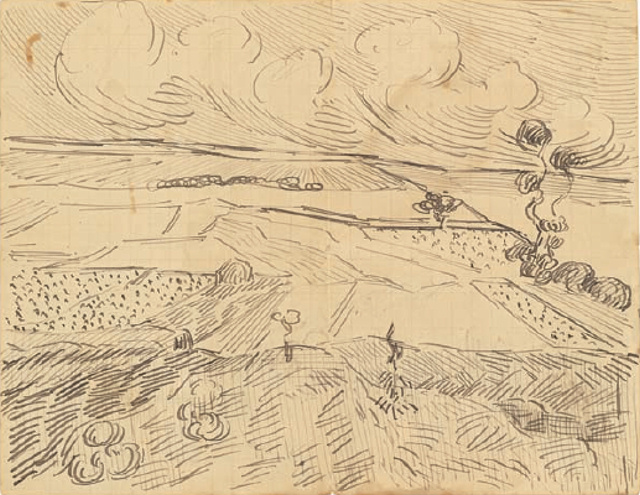 Wheat Fields after the Rain (1890)
Van Gogh is two sides for me. One embodied by Tournesols (1888) or Van Gogh's Chair (1888) where I sincerely don't see the big fuzz about them and one embodied by Starry Night Over the Rhone (1888) or Olive Trees with the Alpilles in the Background (1889) that I absolutely adore!
The exhibition is subtitled "the artist and his letters". All along the exhibition, the drawings and paintings comments are based on these letters. During his 10 years of work as a painter, he wrote almost 1000 letters, available for reading, mainly to his brother Theo (1857 - 1891) but also with other painters like Anthon van Rappard (1858 - 1892), Paul Gauguin (1848 - 1903), Emile Bernard (1868 - 1941)...
The duty of the painter is to study nature in depth and to use all his intelligence, to put his feelings into his work so that it becomes comprehensible to others
The exhibition follow his artist life from place to place he leaved which inspired him: La Hague, Paris, Arles, the asylum of saint-Paul-deMausole and Auvers. It is dedicated to his training, with many drawings. His fascinating how he had period of obsession for one topic, trying and trying again. A proper study of elements that would become a part of his painting few years later. From these topics we find landscape, perspective, peasants, figures and of course colorization.
For my part, I'm wholly absorbed in the vast expanse of wheat fields against the hills, large as a sea, delicate yellow, delicate pale green, delicate purple of a ploughed and weeded piece of land, regularly speckled with the green of flowering potato plants, all under a sky with delicate blue, white, pink, violet tones. I'm wholly in a mood of almost too much calm, in a mood to paint that.
I leave the exhibition a bit skeptical. I think the paintings set wasn't really good. I find few paintings at least great but some of them where absolutely stunning. I didn't know the white roses painting and I absolutely loved it, I could have spend hours on front of it. However for the rest and the most, the magic didn't take. It got me thinking.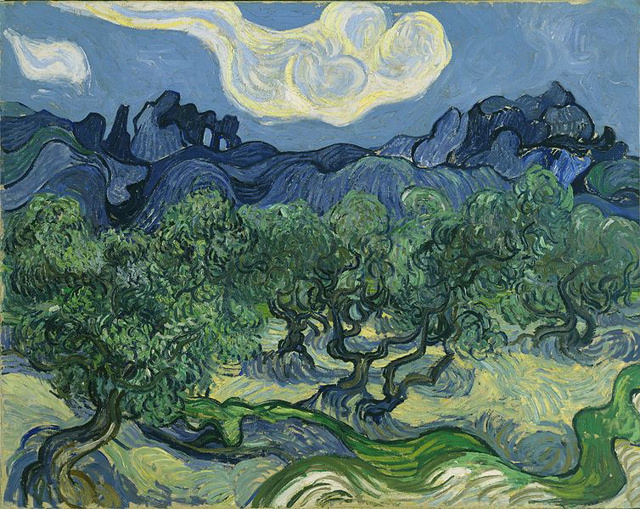 Olive Trees with the Alpilles in the Background (1889)
What is giving me these huge feelings from some of his paintings? In the letters, he doesn't sound like a crazy person. The paintings are not actually crazy either. I saw methodologies, a process, techniques, harmonious colors either pale or contrasted. All I saw is a fascination for the world around him, a passion for observation and a man, when executing art, at peace.
How I'd like to talk to you about art again, but now we can only write to each other about it often; find things beautiful as much as you can, most people find too little beautiful.
All in all, I recommend this exhibition. It gives a good view of Van Gogh life as an artist and shows how he became a talented painter by his genius at being a colorist. I am actually quite tempted to go back just to sit and watch for hours the white roses painting which became one of my favorite painting. The perfect color combination, intense but united with an indescribable energy. ♥
The exhibition is on until the 18th of April for £12.